Accidental rollovers – a wrong turn and you can flip the Car
Accidental rollovers. Car accidents are the most common personal injury accidents that occur on the US roads and highways on a daily basis. Some of them could be quite serious, especially those that involve a vehicle rollover. Unfortunately this type of road accidents often lead to severe injuries or even wrongful death.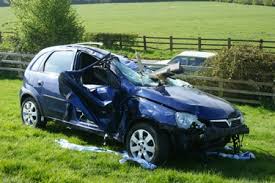 By legal definition the law allows people involved in a vehicle rollover to request a compensation for the personal injury damages they or their relatives had experienced. A vehicle rollover is actually a type of accident in which a vehicle trips over onto its side or roof most often causing severe damage to the car. It can happen due to many reasons but the most popular ones are:
Speeding while making a sharp turn
Colliding with another vehicle or object that suddenly appeared on the road
Going down a steep slope when your brakes are not in order
Exceeding the load limit that a car allows
Sudden car damages that destabilize the vehicle
Unfortunately, gravity and inertia cannot be controlled, so you must always keep your eyes open when you are in steep areas and you know that your car is not in its best shape. The worst scenario, of course is a collision as then the number of the victims involved in the car accident is doubled.
Should you accept the offer of an insurance company?
If you or a member of your family are affected by such a misfortunate event and had become the victim party in the incident, you better get some legal aid as soon as possible as you may otherwise be tricked by your own Insurance agency. This is the most common situation you may fall into: The insurance company you are working with will offer to take care of your car after the rollover, and your medical bills till $3,000. They will suggest they send you a cheque for your pain and suffering for not more than a $1,000. If you accept that offer once you cash in those cheques you must be aware that this means your case is over. You will not be able to squeeze even a single dollar more out of your Insurance agent. So you better not hurry up and speak to a solicitor before signing an agreement of any kind no matter how much you are in pain and how indifferent you are to legal matters at that point, before the initial investigation. More on this website
READ MORE

READ MORE